2017 Peace Action in Hiroshima and Nagasaki
2017.09.19
At the occasion of the 72 nd anniversary of the Atomic Bombings of Hiroshima and Nagasaki, Japanese consumer co-operatives promoted the "peace action 2017" with various activities including peace parades and seminars by co-op members nationwide to share the wish of Hiroshima and Nagasaki and to express their objection against war and the abolition of nuclear weapons.
The Hiroshima event which was held for three days from August 4 to 6 was co-organized by JCCU and the Hiroshima Consumers Co-operative Union. It was attended by 2,550 coop members from 70 co-ops nationwide. The attendance this year is almost double that recorded last year.
The Nagasaki event was held for two days from August 7-8 under the co-organization of JCCU and the Nagasaki Prefecture Consumers Cooperative Union and was attended by 1,060 co-op members from 42 co-ops nationwide.
Peace Action in Hiroshima
The Hiroshima event took as its theme "Learning and understanding the heart of Hiroshima by the younger generation – your inheritance". The significance of these activities is to convey peace messages to the younger generation after the atomic bombing and the calling of their leadership in the creation of a peaceful world. "Niji-no Hiroba" Event This event consisted of two parts, the 'Niji-no Stage (Rainbow stage)' and the 'Minna-no Hiroba (Everyone's space)' was held on the afternoon of August 5, at the Hiroshima Prefectural Sports Center 'Green Arena'. For part one, "Niji-no Stage", curtains were opened to a brass band performance by Hiroshima school children.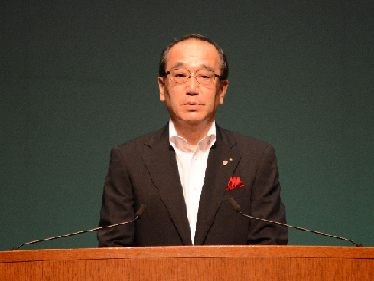 Mr. MATSUI Kazumi, Mayor of Hiroshima in a greeting emphasized on a collective effort to realize a peaceful world without nuclear weapons.Taken turns, HONDA Eiichi, the President of JCCU urged the audience to continue effort, without losing the memory of the atomic bombing, to eliminate nuclear weapons as soon as possible. Thereafter, Hiroshima Numata High School drama group had a performance on the theme "Wind Train" which depicts the situation in Hiroshima city before and after the atomic bombing. In addition, an interview movie of Mr. TANAKA Terumi, a representative committee member of the "Hibakusha Appeal signature campaign" which has been undertaken since last year, calling for approval of Hibakusha Appeal signature campaign was shown.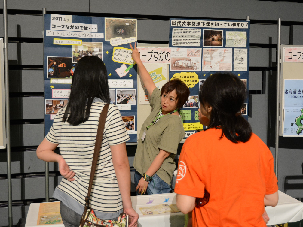 At the 'Minna-no Hiroba' Many events were held including setting up of booths by various consumer co-ops nationwide featuring their peace activities, including peace message calligraphy writing performance and peace song concert.
Booth introducing peace activities by consumer co-op. During the period of August 4 to 6 a total of 21 subcommittee meetings were held with the participation of about 1,000 people pushing for a nuclear weapon-free world including monuments and Hiroshima bomb ruins tours. "2017 Children's Peace Conference" was held where the children discussed ways to build a brighter future and appealed for peace.