Sulawesi Island Shrimp Farming Improvement Project
2018.07.11
Indonesia "Sulawesi Island Shrimp Farming Improvement Project" started
Aim for conversion to a shrimp farming business that considers natural environment, workers and the local communities
Shrimp farming is an important means of living for local residents in Pinrang Regency in South Sulawesi Province, Indonesia, which is the target area of this project. In order for the shrimp farming industry (aquaculture industry) to continue in the future, it is necessary to conserve ecosystems and biodiversity such as the regeneration of mangrove forests cut down to create culture ponds, and to convert to aquaculture business that takes into consideration the natural environment.
(L) Shrimp ponds © WWF-Indonesia / (R) Black tiger shrimp © WWF-Indonesia
(L) Mangrove regeneration © WWF-Indonesia / (R) Training for shrimp farmers © WWF-Indonesia
From July 1 2018, JCCU in collaboration with a major shrimp supplier PT.Bogatama Marinusa/PT.BOMAR (BOMAR Co., Ltd.), WWF Japan and WWF Indonesia started the "Sulawesi Island Shrimp Farming Improvement Project" in Indonesia.
The depletion of marine resources and the crisis of biodiversity due to excessive catch are becoming a global problem, and promoting sustainable procurement and consumption is an important issue to tackle.
JCCU is promoting the procurement of environmentally conscious sustainable fishery products for the production of its CO・OP Brand Products.
The project will run for a period of 3 years with the aim of "conserving ecosystems and biodiversity" and for the "establishment of a sustainable livelihood for the local residents" and "the production and consumption of fishery products".
In order to attain the goals of this project, JCCU has first extended support for the improvement of the aquaculture industry based on ASC (Aquaculture Stewardship Council) standards. JCCU supports fishers in the targeted area who farms black tiger shrimp which is one of its private brand products. JCCU also aims to support the regeneration of mangrove lost by the development of aquaculture pond, prepare a manual on water quality survey and implement training programs on the survey, and make policy proposals on shrimp resource management.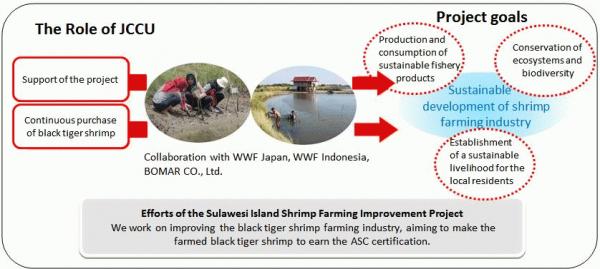 (You can view a larger image by clicking the image above)
In 2007, JCCU launched its private brand products with MSC certification which is given to marine products by well-managed fishery aiming to preserve the ocean environment and marine resources.
In 2017, JCCU expanded its MSC certified items, i.e. products using Norwegian mackerel as raw material, and as a result of this initiative JCCU's sales volume of "MSC certified" products to its member co-ops increased by 440% year on year, realizing a sales amount of 4.1 billion yen.
Through these efforts, JCCU aims to raise the sales volume of "MSC certified" and "ASC certified" products in the marine division of CO・OP Brand Products to 20% or more by 2020.